Brennan Anthony (Somes spelled Antony, without the H)
(b. 2035 d.Unknown)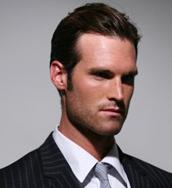 Anthony was an executive in the Bendross Corporation, who was assigned to the post of Vice President of Colonial Operations for the Bendross III.
A self absorbed douche bag, Anthony resented the Bendross III crew taking intiative without asking him first, and assuring themselves that he was in charge.
This culminated in a power struggle with Bendross III Captain Donovan Olson. Anthony declared Olsen incompetent and had him restrained in sick-bay.
When the Expedition 1 team resisted, Anthony had Bendross Security Forces take them into custody, roughly.
This brought Anthony's heavy handed tactics to the attention of Alicia Bendross. She quickly and decisively put Anthony under her thumb and put the Bendross III crew back to normal operation.
Anthony's delusions of power were smashed and he never successfully asserted power in the heriarchy of the Bendross Colony again.
Anthony and Alicia Bendross eventually married, although Alicia and their children retained the Bendross family name.