(B.1992 D Unknown)
Donovan Olson was an American Astronaut in the 21st century. He Joined the NASA Astronaut Corps in the 2020's after a career in the U.S. Airforce.
Olson was one of the Astronauts on the manned 2032
Ares IV mission
to Mars - he and his landing party were stranded on Mars when their orbiting command module disappeared. Three years later they were rescued and returned to Earth as heroes.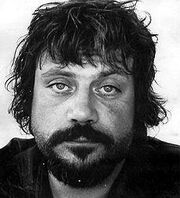 In 2040, Donovan took part in one of the first long term human trials of hibernation spending 10 years in suspended animation.
In 2055, Donovan took part in another long duration Hibernation trial, this one again lasting ten years.
In 2072, Olson was hired by the Bendross Corporation to command the Bendross III. It was felt that his skills as an astronaut and surviving the harsh environment of Mars would allow him to lead the Bendross III to a successful conclusion. He was physically 60 years old even though he'd been born 80 years previously.
In 2092 upon arrival at the Bendross System Olson was physically 61 years old.
After managing the initial approach and landings of the mission, Olson continued to manage the space presence of the Bendross Colony, and then retired to the surface where he lived happily with his new family.
For an image of what Olson's Mars adventure might have looked like see Mission to Mars , and then take out all the stupid crap where it wants to be 2001 and fails, and then imagine that the characters and dialog are actually well written.
Ad blocker interference detected!
Wikia is a free-to-use site that makes money from advertising. We have a modified experience for viewers using ad blockers

Wikia is not accessible if you've made further modifications. Remove the custom ad blocker rule(s) and the page will load as expected.