Star Trek Role Playing Game
Edit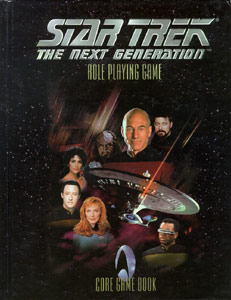 At least their version. The "LUG" version lasted barely over two years before being bought by Wizards of the Coast and
TPTB
pulling the license. Once again why duplicate effort. The
Memory Alpha
entry
The fluff in this game is wonderful for general background information, even if it does reinvent the wheel from FASA. Not using anything of FASA was a requirement of TPTB. (TPTB suck Tesral (talk) 08:08, November 12, 2013 (UTC))
"Lug Trek" as it is known is a good resource in spite of less than stellar editing. It has a decent fan base and is still in development by fans at Memory Icon.
Ad blocker interference detected!
Wikia is a free-to-use site that makes money from advertising. We have a modified experience for viewers using ad blockers

Wikia is not accessible if you've made further modifications. Remove the custom ad blocker rule(s) and the page will load as expected.