Li'ira-2, Image by Joe Manno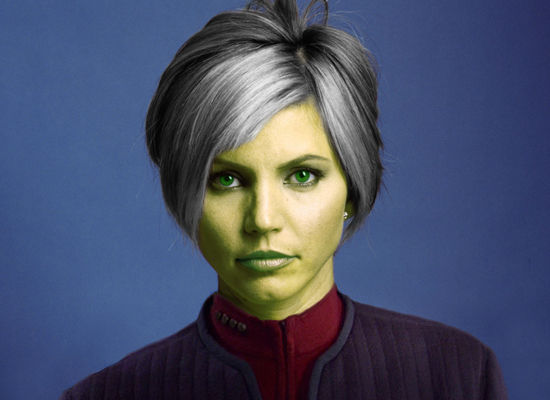 ---
Li'ira-2 is an Alternate Universe Clone of Li'ira Mary O'Keefe.
She came from a spatial phenomenon that duplicated the USS Harrier at the end of ST-OM Episode Four, The Voyage of the Harrier. She is considered Li'ira's sister and holds her own commission in starfleet.
Li'ira 2 is about 15 years younger than her older sister and her personal evolution has been profoundly affected by the experiences of her older self and her unusual assignment.
Li'ira 2 is currently the Commanding officer of the USS Crystal City.
Li'ira 2 (Often shortened to "L2" is having a relationship with her fellow AU Clone Jay P Hailey-2, often called "H2"
Li'ira-2 and Jay-2 have adopted a little Golden Orion Girl named Morania.
They also are care takers for a sentient cat named Alex, a victim of mad science.
These characters are native to and cannon for Epiphany Trek, ST-OM is plotted to take a different course.
Ad blocker interference detected!
Wikia is a free-to-use site that makes money from advertising. We have a modified experience for viewers using ad blockers

Wikia is not accessible if you've made further modifications. Remove the custom ad blocker rule(s) and the page will load as expected.