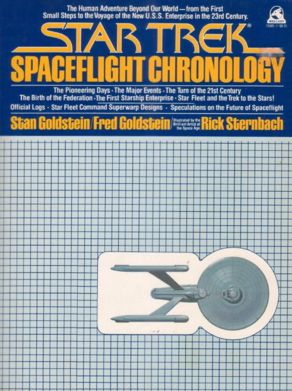 By: Stanley and Fred Goldstein
Illustrations by: Rick Sternbach
© Pocket Books 1979 ISBN 0671790897
The Star Trek Spaceflight Chronology is a reference book which catalogs the future history of Star Trek and the technology developed along the way.
The book's timeline and illustrations are now considered by most to be outside of film canon, as they have been contradicted by information presented since its publication, starting with Star Trek: The Next Generation Season 1.
As the primary source available at the time, it was used as a model for the FASA role-playing games, and several novels of the era. It was also used as a reference by the writers of The Next Generation and Banshee Squadron.
In addition to newly-created starships found only within this volume, the chronology offered specifications for canon vessels such as the USS Enterprise XCV 330 and DY-100 class.
This book is long out of print, difficult to locate, and expensive to acquire if you can find it.