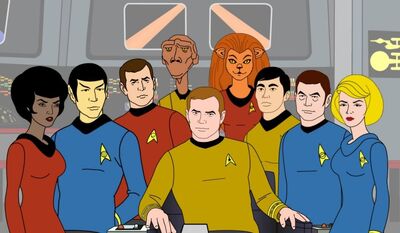 This was a continuation of Star Trek, in the Animated format.  Although the quality was uneven,  it showed that Star Trek could continue past the 1969 cancellation of the Original Series.
It ran from 1973 to 1974.
The Game year is 2269
The animated series suffered three stumbling blocks that the writers had nothing to do with.
The animation: Flimation sucked, that is really all you can say.
Format: The half hour format was half the time that TOS had on screen. Stories had to be quick and brief.
Phoning it in: The principle actors literally phoned in their lines, recording them locally and sending it to the studio. As a result timing suffered. The whole series had a somewhat sleepy feel.
Animation, even cheap animation had some advantages:
Animation meant that more new ships could be shown and they did.
Truly alien aliens could be on the crew and as adversaries.
Scenery was not limited to a sound stage.
In spite of the limits they did Star Trek proud more than they did not,
Ad blocker interference detected!
Wikia is a free-to-use site that makes money from advertising. We have a modified experience for viewers using ad blockers

Wikia is not accessible if you've made further modifications. Remove the custom ad blocker rule(s) and the page will load as expected.