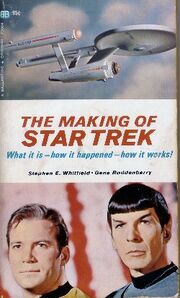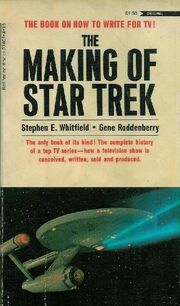 Authors:
Stephen E. Whitfield and Gene Roddenberry
Publisher: Ballantine Books -- September 1968; Del Rey -- August 1986; Titan Books -- November 1991
Pages: 403
Reference: SBN 345-23401-4-150 (Ballantine Books editions); ISBN 0345340191 (Del Rey edition); ISBN 1852863633 (Titan Books edition)

From the first edition book jacket
What it is - how it happened - how it works! The Biography of the Leading Science Fiction TV Program. STAR TREK! The long, hard battle of television's first tentative step toward adult science fiction, with the complete story on how the U.S.S. Enterprise was designed, her weaponry, equipment and power sources, the original concept behind the show, how the continuity is maintained, backgrounds of the characters, biographies of the stars, and pictures, diagrams, illustrations - the whole authentic history.
From the second edition book jacket
The Book On How to Write for TV! The only book of its kind! The complete history of a top TV series - how a television show is conceived, written, sold and produced.
For Years this was the only source book for Star Trek that could be accessed on the mass market. The Star Trek Concordance did exist, but only as a fan publication. So until the Star Fleet Technical Manual in 1975 The Making of Star Trek and the illustrations therein were the only reliable sources for props and uniforms.
This author went though three copies. Yea, I'm a nerd. Tesral 13:40, February 7, 2011 (UTC)
Excerpts of copyrighted sources are included under the fair use provisions of copyright law.
Ad blocker interference detected!
Wikia is a free-to-use site that makes money from advertising. We have a modified experience for viewers using ad blockers

Wikia is not accessible if you've made further modifications. Remove the custom ad blocker rule(s) and the page will load as expected.