The USS Cincinnatus is a Federation Intrepid Class Starship
First Appearance ST-OM Episode 54 Rondo in Green
Named for [Cincinnatus http://en.wikipedia.org/wiki/Cincinnatus]
Brief description of ship: A sleek running shoe of a ship.
Campaign role for the ship: to Carry the PCs deep into unknown space
Fleet role: Light, multirole cruiser.
Age: Less than 1 year.
Built: 2374
Dimensions
Edit
Length : 344m
Beam : 133 m
Height : 66 m
Decks : 15
Distinguishing Marks (Odd paint job, repair scars etc.): None, the Cincinnatus is a brand new ship.
Equipment Quirks and Problems: None, the Cincinnatus is bright and shiny new.
Equipment Advantages: The Cincinnatus has the absolute latest Computers, sensors, shields, weapons and software. She even bears that new starship smell.
Shuttles, number, any odd ones? 1 Aerowing Type Runabout 2 Type 8 Personnel Shuttlecraft 2 Type 9 Shuttlecraft 4 Type 18 Shuttlepod

Primary Power: The Cincinnatus uses the latest revision of the powerful matter/anti-matter reactor.
Secondary Power: The Cincinnatus uses a robust and reliable Starfleet Impulse power system.
Primary Weapons: The Cincinnatus' main strike weapon is set of four quantum torpedo launchers, 2 fwd, 2 aft. She can launch four torpedoes in each direction at a time.
Secondary Weapons: The Cinncinatus has collimayed Phaser Arrays ccovering all arcs.
Crew/Passengers: 150/700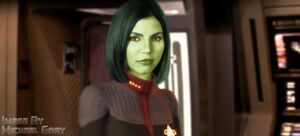 Command Staff
Edit
CO - Li'ira
XO - Aaron St.John-Smythe
OPS - Tandala MacBier
SEC - Garan Draxil
CENG - T'Aera of Vulcan
CMO - Sunshine of Askene
CSc - Crystara Acnapma
Doctor Gar Molon
Doctor Hup-Nast-Zam-Zam
Counsellor - John Gambolpuddy
Helm - T'Nara of Vulcan
Tech - Parker Ashby
Sec - Rose Vogel
Civilian - Neela
Enterprise-D Scale
Edit
On a scale of 1 1000 where 1000 is The Enterprise-D
Science capacity - 750
Crew Comfort - 1125
Duration - 1500
Medical facilities - 750
Tactical maneuvering - 3,526
Strategic Speed - 6,000
Defense - 500
Offense - 500
Versatility - 275
Internal Security - 1000
Normal Cruise : 8
Maximum Cruise : 9.9754
Maximum Rated : 9.985 for 1 hours.
Hull Life
Edit
Expected Hull Life : 80 Refit Cycle : Minor : 1 year Standard : 5 years Major : 20 years
Ad blocker interference detected!
Wikia is a free-to-use site that makes money from advertising. We have a modified experience for viewers using ad blockers

Wikia is not accessible if you've made further modifications. Remove the custom ad blocker rule(s) and the page will load as expected.